Michigan College Month 2017
Michigan College Month strives to have every single high school senior apply to at least one post-secondary institution, file their Free Application for Federal Student Aid (FAFSA) and apply for at least one scholarship by the end of October 2017. MI College Month specifically targets low-income students, first-generation college going students, and those who would have not otherwise considered college.
Why is Michigan College Month important?
Our goal is to help all graduating high school seniors navigate the complex college admissions process and provide the opportunity to complete at least one college application, the FAFSA, and a scholarship application by the conclusion of MI College Month at host high schools.
By providing this opportunity at school and during the school day, students are guaranteed time to apply, ask questions, and receive support from their peers and dedicated adults like counselors, college advisers, teachers, and sometimes even college admissions and financial aid staff.
Michigan College Month also builds a school's college-going culture and the expectation that students require education beyond their high school diploma to be competitive in today's knowledge-based, global economy.
High Schools Hosting MI College Month Activities in 2017:
Arbor Preparatory High School
Ann Arbor Community
Ann Arbor Huron
Ann Arbor Skyline
Dexter
Lincoln
Milan
Washtenaw Alliance for Virtual Education (WAVE)
Washtenaw International High School
Whitmore Lake
Ypsilanti Community High School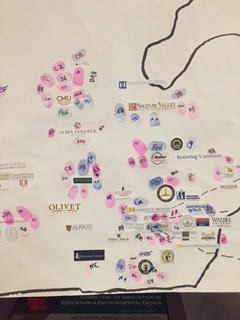 Results from Past Michigan College Month Events
College Applications Submitted Fall 2015
Types of Colleges Students Applied to During CAW
Supporting Students Who Need The Most Help